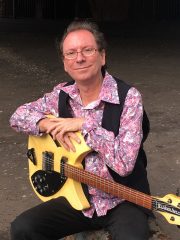 Bio
Over the past decade, Franky Valentyn has emerged as one of Sydney's most versatile performers. Franky has performed in such respected cover bands as The Beatnix, and The Generation as well as touring Australia with international acts such as The Monkees and the Shadows. From 1993-2003 Franky was part of the legendary Sydney concept show Le Club Nerd He is also from time to time one of the pianists/ musical directors for ABC TV's Play School. Franky has also been honored with 3 ACE Awards and 3 MO Awards over the last 5 years
A high energy one man show with a unique vocal style which allows him to incorporate songs as diverse as Phantom of the Opera, Bohemian Rhapsody, to the hits of Elvis, Beach Boys, ABBA, The Beatles, Jerry Lee Lewis, Bee Gees and Frank Sinatra along with your favorites from the 50's through to the 80s with a couple of Kate Bush songs thrown in for good measure!
Quick contact
YOUR ENQUIRY GOES HERE
Need more information about the product? Just simply
fill out the form below so we can assist you.
Oz Management News
Get updated